Hey buddy, I understand you must be feeling bad right know to have mistakenly recharge airtime excessively than you wanted.
Don't worry :) Payscribe got you covered. On payscribe app. you can easily convert the airtime you mistakenly load to instant cash. We credit your bank details with the equivalent money of the airtime sent.
How Does it Work?
To convert the airtime (MTN, Glo, 9mobile, or Airtel) to cash you need to create an account on payscribe or login to your dashboard if you already have an account with Payscribe
--- On your dashboard, click on the "Top up airtime, buy internet data"

--- Select Airtime to Cash
--- On the airtime to wallet page, as seen below. Fill the form appropriately.
1. Select The network you want to convert
2. Enter the phone number you're sending from
3.Select the amount you want to send
Click on Proceed.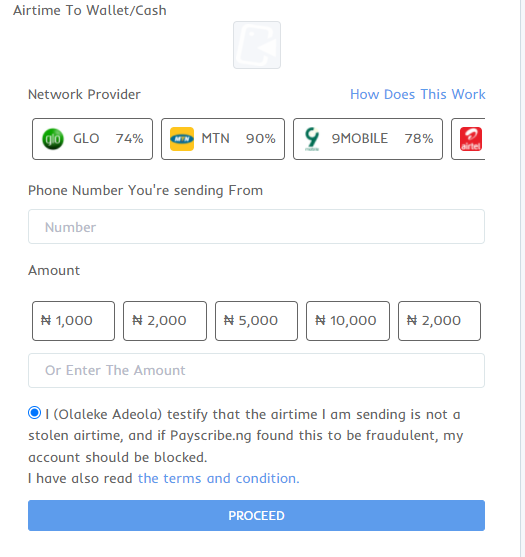 The last page will ask you to review the details, and show you the number to send the airtime to.

4. Enter your 4 digit transaction pin
What Next?
Airtime to cash require manual approval. An admin will review the airtime sent, and approve the transaction.
Please note that approval will push the money to your commission wallet, and from there you can make a request for payscribe to send the money to your account details. This request is instant funding
Get started, register on Payscribe to convert your excess airtime to cash.